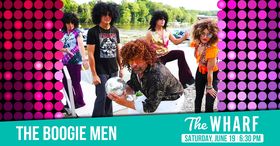 The Boogie Men at The Wharf
September 4, 2021 @ 6:30 pm
-
10:00 pm
Don't miss The Boogie Men live at The Wharf Manitowoc on Saturday, September 4th from 6:30 PM – 10:00 PM.
• Free Concert
• No Carry-Ins Allowed
• Rain or Shine (Retractable Roof System)
The Boogie Men create the ultimate dance party, combining the best music with colorful outfits and on-stage antics.
Our loyal fan base (AKA "Boogie Nation") share the common love for music, dance, and the art of having fun. From current hits to old school favorites, if it makes you shake your bootie, it's on the set list.
The Boogie Men – Dance. Smile. Be Happy.
The dates and information listed here are subject to change. Please call to verify dates and details.