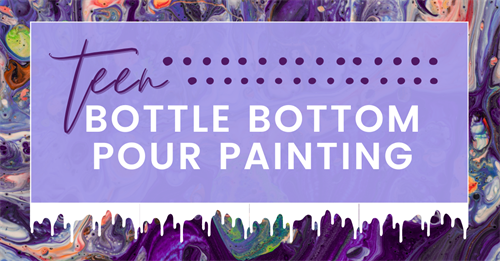 Teen Bottle Bottom Pour Painting at Rahr-West Art Museum
July 28 @ 1:00 pm
-
2:00 pm
Friday, July 28, 2023 1-2 PM
Rahr-West Art Museum
610 North 8th St.
Manitowoc, WI 54220
Fees/Admission
Admission is FREE!!!
Description
Fluid art will be happening at the Rahr-West Art Museum on Friday, July 28, from 1-2 PM, so go with the flow of Teen Bottle Bottom Pour Painting with Rahr-West teaching artist, Michelle Bonde. Be sure to dress for some mess as paint could end up anywhere! Registration for this event—being done in partnership with Manitowoc Public Library—opens at 5 PM on Friday, July 14. Head to https://www.manitowoclibrary.org/event/teen-bottle-bottom-pour-painting-rahr-west to secure your spot
The dates and information listed here are subject to change. Please call to verify dates and details.