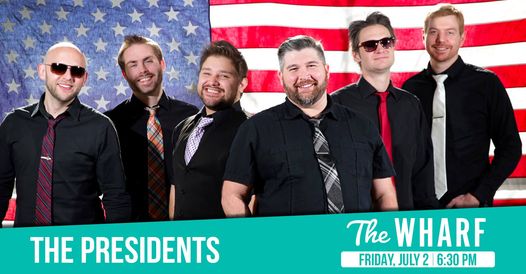 The Presidents at the Wharf
July 2, 2021 @ 6:30 pm
-
10:00 pm
Don't miss The Presidents live at The Wharf Manitowoc on Friday, July 2nd from 6:30 PM – 10:00 PM.
• Free Concert
• No Carry-Ins Allowed
• Rain or Shine (Retractable Roof System)
Four score and seven years ago a monumental collection of musical powers united in Wisconsin's Fox Valley with the mission of helping people have a good time. Since that fateful day, THE PRESIDENTS have become one of the most requested party bands in the state. Combining a high energy show with an eclectic mix of classic to contemporary party rock songs, THE PRESIDENTS have the perfect mix of repertoire, talent, and charisma to rock your socks off.
The dates and information listed here are subject to change. Please call to verify dates and details.