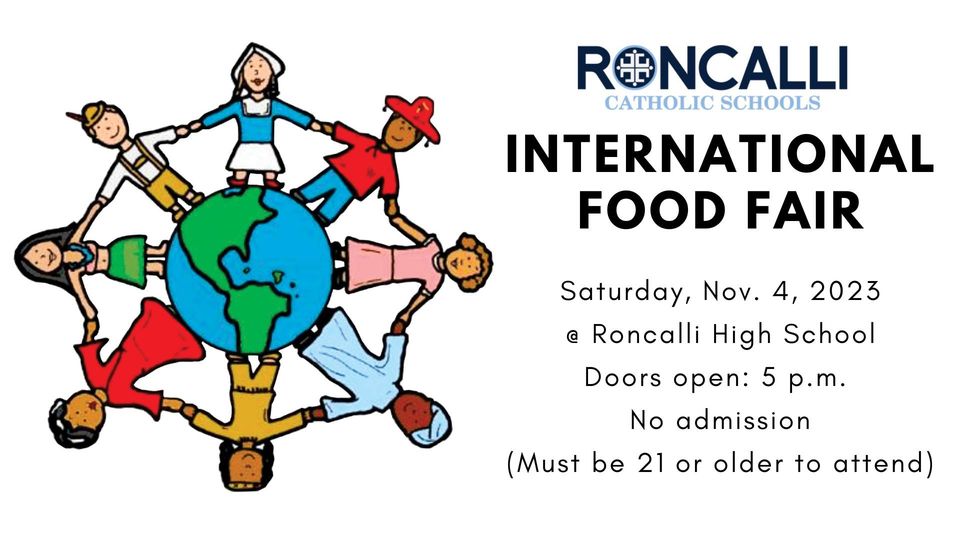 Roncalli Catholic Schools' International Food Fair
November 4 @ 5:00 pm
-
10:00 pm
Roncalli Catholic Schools to host International Food Fair Nov. 4
Roncalli Catholic Schools invites the public to tempt their tastebuds and attend the International Food Fair on Saturday, Nov. 4. The event, for adults only, 21 and older, will take place at Roncalli High School, 2000 Mirro Drive in Manitowoc, beginning at 5 p.m.
The event, featuring a variety of cuisine, will be a recipe for a good time. The food, including many delicious desserts which will satisfy your sweet tooth, will be prepared by local restaurants and Roncalli Catholic Schools families, and include Americana, Asian, Mexican,
German, Italian, French, Jamaican, Polish and Southern dishes. Specialty beers and wine will be available for purchase as well.
"No reservations are needed to enjoy an evening out with family and friends at the International Food Fair," said Candice Giesen, director of advancement for Roncalli Catholic Schools. "This is your opportunity to sample a dish you may have never tried or relish the
flavors of an old favorite that has been a staple for years at the Food Fair! Each year, we bring new menu items to the table, and this year will not disappoint. Come hungry as all selections come in portion sizes that allow our guests to try a number of items."
There is no cost to attend the event. Punch cards will be available for sale at the International Food Fair to make food sampling easy. Cash, check and credit cards will be accepted. In addition to the fare being offered, the International Food Fair includes an oral auction with packages including experiences, sports memorabilia, and more!
You won't want to miss these items as they're auctioned off by Greg Schramm who will serve as the event's auctioneer. John Jagemann will return as the event's emcee. Tickets for the Ticket to Cash raffle are available for purchase now. Only 500 tickets will be sold
for your chance to win a grand prize of $7,500 cash. Tickets are $100 each. Visit: 
https://rems.roncallicatholicschools.org/international…
 for the flyer and form. Winners will be drawn during the International Food Fair.
An array of themed collections also will be up for bid in the Gift Collections Raffle. And, for those looking to decorate their homes for the holidays and beyond, there will be plenty to pick
from in the Tabletops, Trees, Wreaths and More! area. Of course, those with an affinity for Roncalli will want to make sure to stop at the Roncalli HeART Originals. This special section features original artwork up for bid created by Roncalli students age pre-school through 8th grade.
The schedule for the evening is as follows:
5 p.m. Doors open
7 p.m. Oral Auction
8 p.m. Ticket to Cash raffle drawing and Happy Hour Hauler raffle drawing
8:30 p.m. Gift Collections sales end
8:45 p.m. Gift Collections closes
9 p.m. Gift Collections winners announced
9:20 p.m. Tabletops, Trees, Wreaths & More! closes
9:30 p.m. Roncalli HeART Originals closes
All times are approximate depending on the ending of the Oral Auction.
The official International Food Fair book will be released later this month. Continue to follow the "Roncalli Elementary School and Roncalli Middle School" Facebook page for the latest information, including weekly video drops. We invite you to like and share our posts. You also will find event information online at: 
https://rems.roncallicatholicschools.org/internationalfoo…
.
We look forward to seeing you at the event
The dates and information listed here are subject to change. Please call to verify dates and details.