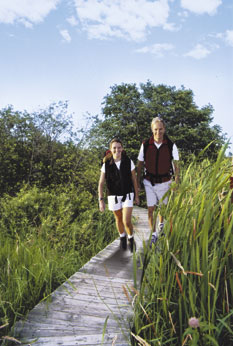 Ribbon Cutting Event – Woodland Dunes Nature Center
July 29, 2021 @ 4:30 pm
-
5:00 pm
Woodland Dunes Nature Center has been a natural attraction and a hallmark asset in the city of Two Rivers and Manitowoc County for nearly 50 years. It's been housed in an 1800s cream-city brick farmhouse from the beginning. Thanks to a much needed $2 million capital campaign, this is no longer the case.
On Thursday, July 29, 4:30 pm there will be a ribbon cutting ceremony at the new Center entrance followed by a VIP Grand Opening. An Open House for the community will follow on Friday, July 30 from 9-4:00 pm with light refreshments served throughout the day.
"We're excited to officially open our beautiful new facility to the public," stated Jim Knickelbine, Executive Director of Woodland Dunes.
Jack and Laurel Alyea and the West Foundation were the lead donors to make this important upgrade a reality.
The new center will increase Woodland Dunes' ability to offer larger programs and events, secure quality presenters, and ensure that existing events will be held even during inclement weather.
The upgraded center contains a variety of green features: permeable parking lot, geothermal heating and cooling, restored chimney for nesting swifts, solar panels and an electric car charging station.
The trails at Woodland Dunes are free and open to the public seven days a week. There is no fee to enter the Nature Center so that all may have access to education regarding our local natural assets.
The dates and information listed here are subject to change. Please call to verify dates and details.